Commercial Furniture Companies
Quality Site Furniture is the leading commercial furniture company in the state of Utah. We design all of our metal furniture to withstand outdoor weather conditions without ruining the integrity of the furniture. The site furniture is backed by a one year guarantee against rust and corrosion. At Quality Site Furniture, we are committed to providing you with the highest quality furnishings for public parks, school campuses, business fronts, cities, and everything in between.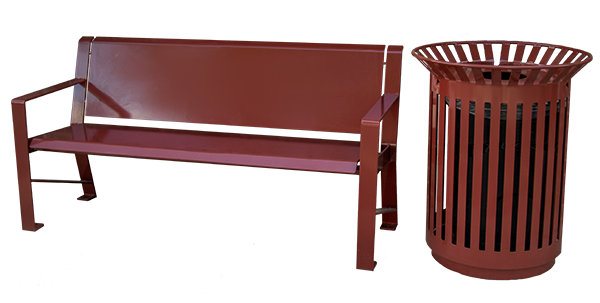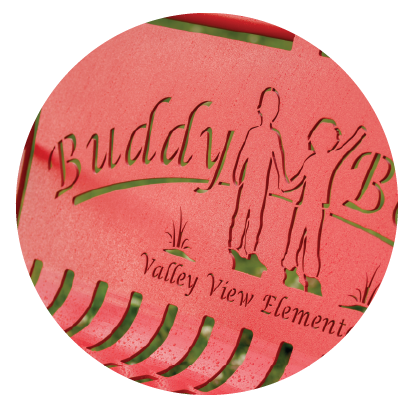 Powder Coated
We sandblast, prime, and powder coat all outdoor furniture to protect the metal from rust and corrosion. An electrostatic spray gun applies the powder coat, evenly covering the furniture. The furniture is then baked at 400 degrees to melt the powder into the metal. This durable finish is twice as thick as the average paint. Learn more about the powder coating process here.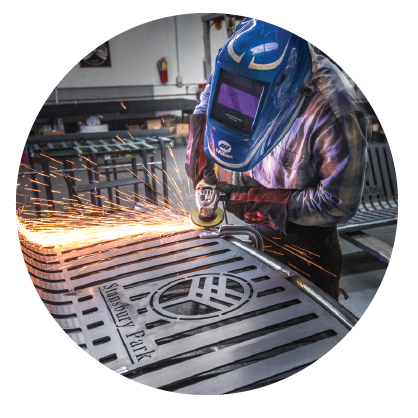 Polished Welds
Not only are the classic benches visually appealing, but they also have seamless welds for a long-lasting finish. For this, we weld fully to protect the metal from rust and corrosion. We ground and polish welds to create a continuous, smooth finish. So when purchasing outdoor furniture, be sure to ask about the welds. Having fully closed welds will add to the longevity of the site furniture.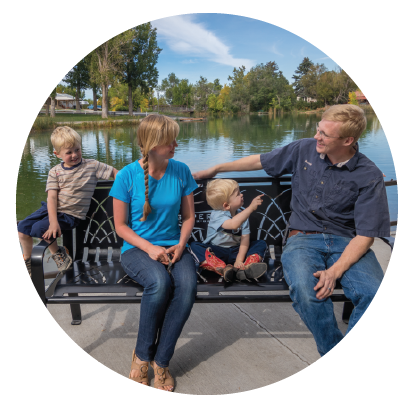 Made To Last
We have tested our outdoor furniture to make sure it will last for years and years. We have performed various experiments to test the durability of our products. Some of these tests included dropping a picnic table 30 feet and placing a car on top of the aluminum table top. The tables passed both of these tests! When you choose Quality Site Furniture, you are choosing outdoor furniture that will last for years and years to come.
Let's Talk Details
What truly sets Quality Site Furniture apart from other outdoor manufacturers? First of all, we have an in house designer who creates custom laser cut logos, inscriptions, and even images. We cut all of these designs directly into the metal furniture. We believe that each piece of metal furniture should be unique and compliment the location. Whether that means adding a tribute, a business logo, or a mountain scene, we make sure that the detailing is just what you have envisioned.
The Process
Send us your ideas. We can work with anything from a word document to doodles on a napkin. If you want a logo, image, etc. on the metal furniture, be sure to include that as well. (Our designers can even work with images.)

We will create a mockup. Our team will take your ideas and create a mockup. Once you have approved the design, we get started on laser cutting.

The metal furniture is sent to you! After the furniture has been crafted, we ship to you, no matter where in the world you are!