Commercial Furniture Manufacturers
Quality Site Furniture is the leader in commercial furniture in the state of Utah and surrounding areas. All of our site furniture is manufactured with the highest durability and protection against rust and corrosion. This is because its sandblasted, primed, and powder coated. After this process, all furniture is ready to last through all seasons and climates.

At Quality Site Furniture we manufacture all of our furniture in western United States. Although we are based in Utah, we gladly ship nationwide. Get started on your order by either emailing QualitySiteFurniture@Gmail.com or calling (801) 210-9194.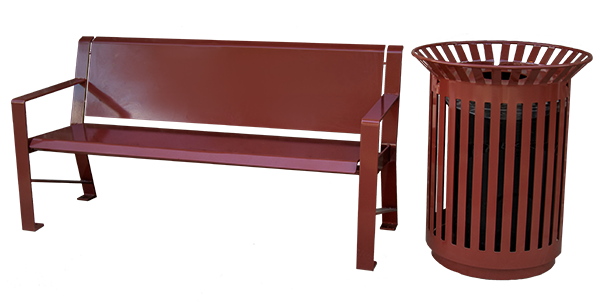 -For minimal welds, we cut the site furniture from a single sheet of metal rolled into place.
-Our engineers design every piece of furniture with weatherproof protection against all four seasons.
-We offer a large variety of custom powder coating colors.
-Our furniture is kid-friendly. That means they are able to endure jumping, scratching, etc. It also means all surfaces make for easy cleanups!
-We comply to ADA standards to give you wheelchair accessibility options on picnic tables.
-Our designers make personalized finishes with laser cut designs, logos, inscriptions, and more.
-Our angled tubular legs make sure our picnic tables keep their balance no matter what.
-We have an impressive selection of modern styles for every type of outdoor furniture.
Explore Your Options
We manufacture a number of furniture collections: picnic tables, benches, trash receptacles, and bike racks. Each collection consists of a few different style options as well. You can pick the style that best accentuates your site. Every piece of furniture is made strong with quality stainless steel. In addition to style options, you also get to pick which powder coat color you'd like. Our selection ranges from neutrals to bright colors, so your shade is in there!
---