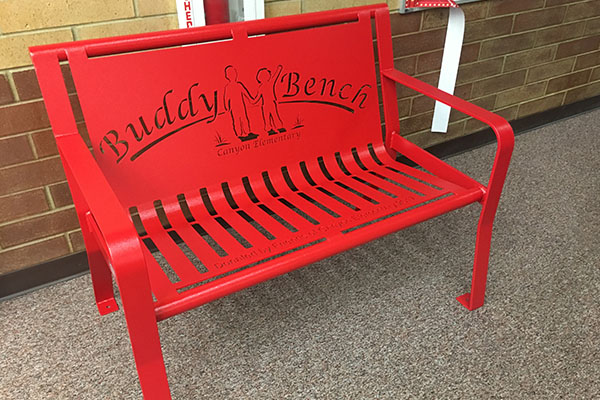 Purpose of the Buddy Bench:
The Buddy Bench's purpose is to eliminate loneliness on the playground, while cultivating new friendships. If a child is lonely during recess, they can sit on the Buddy Bench. Other groups of kids will notice their peer on the bench and invite them to play. Schools across the United States have been joining the movement. Order your Buddy Bench today!
Contemporary Buddy Bench
The Buddy Bench is available with custom laser cut options including: inscriptions, images, and mascots. The metal bench is available in a large selection of powder coating colors from classic blacks to vibrant reds. To get started on your Buddy Bench order, give us a call at (801) 210-9194 or email QualitySiteFurniture@Gmail.com
---
4′ Bench – $949
6′ Bench – $1199
8′ Bench – $1499
*Prices may vary with design.
---