Memorial Bench
At Quality Site Furniture, we provide custom designed memorial benches to commemorate your loved ones who have passed. Memorial Benches are the perfect addition to parks, cemeteries, gardens, and backyards. We work with custom designs to truly give you a one-of-a-kind bench. Each bench is available with custom laser cut design work including images, sceneries, and descriptions. Normal Bench prices do not reflect the pricing for Memorial Benches.
To start your Memorial Bench, email QualitySiteFurniture@Gmail.com or give us a call at (801) 210-9194.
---
*Prices vary with design.
---
Let The Bench Tell Their Story
No two benches are alike, just like no two people are alike. Each memorial bench is custom designed to pay tribute to that individual or loved one. Our designers will work tirelessly with you to create a metal bench that tells their story. Images, sketches, Word Documents, etc. will help the design team to produce a mockup that helps represent your loved one's memory.
Send Us Photographs, Sceneries, Etc.
For the memorial bench, we strive to provide as much detail as possible. By sending our team photographs and sharing memories, we are able to better capture them into the metal bench. We will not start cutting the bench until we have your final approval on the design.
Bench Style Options:
The memorial bench is available in three styles: Classic, Arched, and Metropolitan. Each bench features fully customizable laser cut design options on the back. Be sure to specify which bench you would like when ordering.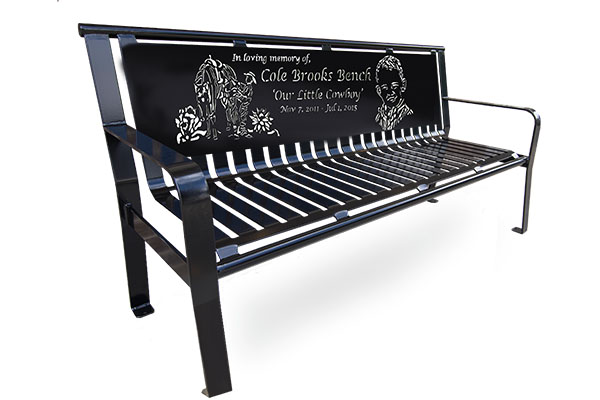 Classic Style
The classic bench style is designed from a single sheet of metal with custom slat detailing. It is available with a fully customizable back.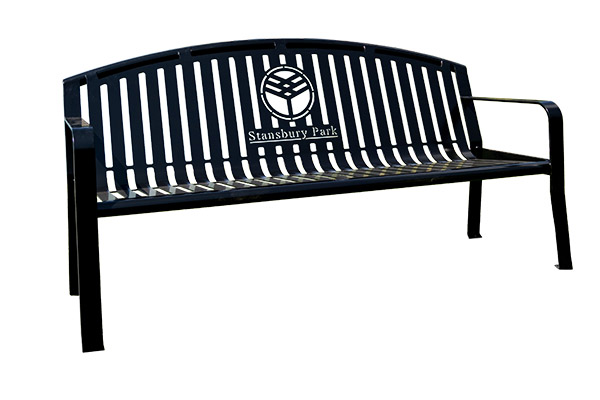 Classic Arch Style
The classic arch bench features a beautiful curved back and modern slat detailing that accentuates the surrounding areas.
Bench Features:
---
Minimum Welds
The Marine Trash Receptacles are cut from a single sheet of metal that is then rolled into shape. This process requires less welds that could potentially cause rust and corrosion and adds additional durability to the metal trash receptacle.
Powder-Coated
Each trash receptacle is powder-coated to a smooth, solid finish. The powder coating creates a weatherproof seal to protect the metal from rust, corrosion, chips, and fading that could shorten the life of the receptacle.