Modern Site Furnishings
Quality Site Furniture is the leading distributor of site furniture in the state of Utah. We design all of our modern site furniture to accentuate any location: business fronts, memorial gardens, college campuses, and more.

In addition to our collections of styles, we offer further customization, such as laser cutting. Under your direction, we laser cut designs, logos, inscriptions, images, and sceneries onto the benches and trash receptacles. Another way to personalize your furniture is by choosing from our wide array of powder coating colors.

To get started with your site furniture order, give us a call at (801) 210-9194 or email QualitySiteFurniture@Gmail.com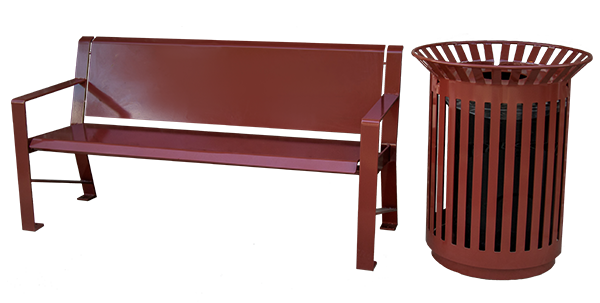 Features
-Single sheet of metal bent into shape for added durability and less welds
-Three-step powder coating process (sandblast, prime, and powder coat)
-Large selection of coat colors
–Powder-coated finish protects against rust, corrosion, scratches, scuffs, and peeling
-Endless design options
-Laser cut customizations
We're innovating outdoor furniture.
It doesn't have to be basic or simple. It doesn't have to be uniform. Outdoor picnic tables can have style options. Park benches can be laser cut, customized with your logo, motto, or even designs adapted from photographs. Trash receptacles can, too! They can also have lids, and even umbrellas! Bike racks can have 11 loops.

Because of our many design options, Quality Site Furniture is the best source for outdoor furniture in Utah. Not only do we specialize every piece of furniture, we make sure it won't be affected by even the most extreme weather conditions. Because outdoor site furniture can and should last! And with Quality Site Furniture, it will.

Come explore your options for customized, long-lasting outdoor site furniture with us!