Outdoor Commercial Seating
At Quality Site Furniture we fabricate outdoor commercial seating for businesses, parks, college campuses, apartment complexes, and more. Our collections include picnic tables, park benches, trash receptacles, and bike racks. We have style variations within these collections that you can choose from, depending on your setting.

We believe in creating modern new designs that are individualized for each customer. To accomplish this, we provide custom laser cut designs, inscriptions, logos, and powder coating colors.

We also ship nationwide to accommodate your site furniture needs. Give us a call today at (801) 210-9194 or email QualitySiteFurniture@Gmail.com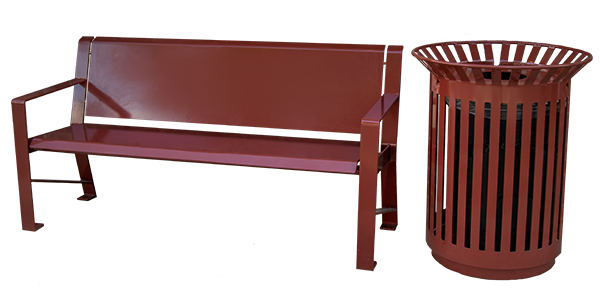 All-Inclusive
Outdoor furniture plays such a big role in bringing people together at parties, reunions, barbecues, etc. So to make sure there's room for everyone to sit together, we three sizes of picnic tables.

That's also why our picnic tables can be made wheelchair accessible–so that everyone really can be together. In your order, just be sure to let us know if you'd like one end extended (ADA 1) or both (ADA 2).
---
-Minimal welds
-Weatherproof finish
-Powder coating color options
-Custom laser cut designs
Flip Out!
Our trash receptacles come with a couple different styles of lids. The best for rainy or snowy climates is the Umbrella style. The top of this lid keeps the contents dry from any precipitation.
-Style variations
-Rust-resistant coat
-Sturdy structures
-Kid-friendly furniture
Anodize This
The line of Aluminum Picnic Tables comes with the option of anodizing the seats and tabletops. This prevents rusting, discoloration, chipping, etc.
-Quick order completion
-Easy clean-up
-Smooth surfaces
-Personalizations
Park It
Park benches don't just belong in parks (although they do go perfectly there!). We manufacture benches for city sidewalks, business fronts, school campuses, and hiking trails, to name a few ideal locations.