Outdoor Picnic Tables
Is your city park in need of a new outdoor picnic table? Picnic tables that can withstand harsh weather conditions, uneven distribution of weight… and parkour athletes? Quality Site Furniture has taken their metal picnic tables through the ultimate test. See for yourself why Quality Site Furniture has been named the best in outdoor picnic tables.
The Outdoor Picnic Table, Designed To Last
Will your picnic tables ever come in contact with parkour athletes? Maybe not, but at Quality Site Furniture, we plan for everything. Each aluminum picnic table has been designed to last for years and years. Watch the video on the right to see how we have taken the picnic tables through the ultimate tests.
Rigorous Picnic Table Tests:
---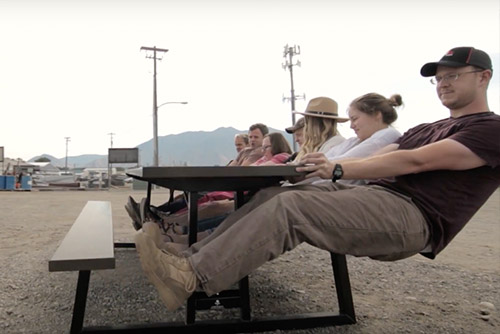 Non-Tipping
At Quality Site Furniture, our designers have created tubular legs that are angled to keep the picnic table from tipping. No matter how uneven the weight is distributed around the picnic table (as seen above), both legs will stay on the ground. This feature keeps everyone safer, whether it is a family having a picnic, or kids rough housing.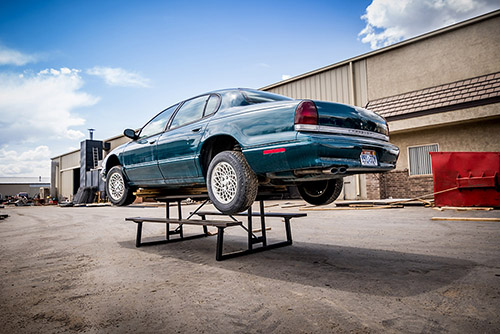 Safe Against Bowing
Outdoor picnic tables will come into contact with heavy snow loads that could cause the table to bow under the weight. To test this, our team placed a car on top of one of the picnic tables to see just how well it could hold up against the heavy weight. You can see for yourself, the picnic table showed no signs of bowing or breaking under the pressure of the car.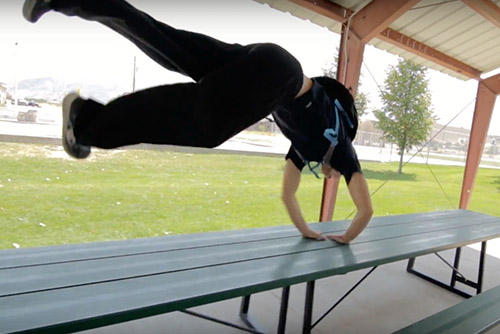 Athlete Tested, Athlete Approved
Who better to test our picnic tables then athletes who are jumping, flipping, and twisting around the tables. Our videographer followed a few parkour athletes around Utah County and filmed the results of their testing. And let us tell you, the outdoor picnic tables passed. If they can hold up for athletes, they should hold up for you.
And the jury is out! What do you think of our picnic table tests? Let us know if there are more tests that you would like to see! If you are ready to order, give us a call at (801) 414-1724.