Outdoor Restaurant Furniture
Order your outdoor restaurant furniture from Quality Site Furniture, the leader in durable outdoor furniture. All of our site furniture is designed to resist rust and corrosion and withstand harsh weather conditions all year long. Whether it's sitting in the sun or frequently pounded by rain, our furniture can stand any climate and maintain a sharp appearance.

Aside from the durability, one of the most important aspects of our furniture lines is our customizing. You have plenty of colors and shades to choose from for the powder coat, from neutral to bright. To add a more personal and individual feel to your restaurant furniture, we also offer custom laser cut logos and designs on all site furniture.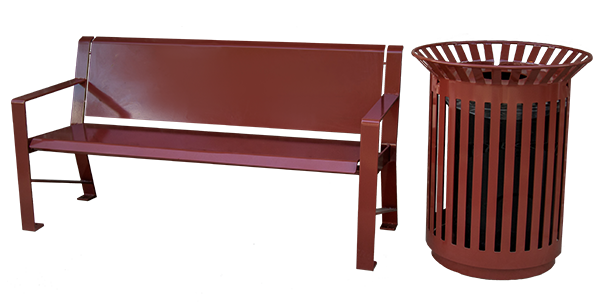 Features
-Minimal welds for maximum strength
-Large selection of powder coating colors
-Custom laser cut restaurant logo options
-Smooth, weatherproof finish
---
The Right Restaurant Furniture
We at Quality Site Furniture want to help you find the right outdoor seating for your restaurant, because we know how important that. We know you can't afford to have tables that rock or tip, and that's why with us, you'll never have to worry about that. We've tested our furniture time and time again to make sure it won't tip or bend under pressure and unevenly distributed weight. In addition to the reliability and strength of the furniture, we also know how important style. Each restaurant has its own feel, and the style of the furniture should reflect that. That's why we give you the options and let you decide how your furniture looks by picking out the color and laser cut designs for optimum customization.

Our collections include tables, benches, and trash receptacles, email QualitySiteFurniture@Gmail.com or call (801) 210-9194 to see what else we can do for you and explore your options.
---