The picnic table is designed from durable aluminum and steel to endure years and years of harsh weather conditions, while keeping the integrity of the table. Each picnic table is available with the option to be powder coated or have a galvanized and anodized finish.
Contact Us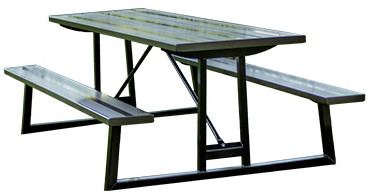 Rust Resistant
The powder coated finish protects the bare metal from succumbing to rust and corrosion.
Non-Tipping Design
The table legs are angled to keep the table up right and to combat uneven distribution of weight.
ADA Compliance Option
Each picnic table is available with an ADA Compliance option on one or both sides of the table.
6′ Powder Coated Picnic Table
$599
LIN6PT
-No wheelchair access
-Powder Coated Finish
6′ Anodized & Galvanized Picnic Table
$649
LIN6PT-AG
-No wheelchair access with standard table option
-Anodized & Galvanized Finish
8′ Powder Coated Picnic Table
$649
LIN8PT
-No wheelchair access
-Powder Coated Finish
8′ Anodized & Galvanized Picnic Table
$699
LIN8PT-AG
-No wheelchair access with standard table option
-Anodized & Galvanized Finish
8′ Powder Coated Picnic Table, ADA 1
$649
LIN8PT-ADA1
-Wheelchair access on one end
-Powder Coated Finish
8′ Anodized & Galvanized Picnic Table, ADA 1
$699
LIN8PT-AG-ADA 1
-Wheelchair access on one end
-Anodized & Galvanized Finish
8′ Powder Coated Picnic Table, ADA 2
$649
LIN8PT-ADA2
-Wheelchair access on both ends
-Powder Coated Finish
8′ Anodyzed & Galvanized Picnic Table, ADA 2
$699
LIN8PT-AG-ADA 2
-Wheelchair access on both ends
-Anodized & Galvanized Finish