Site Furnishing Manufacturers
Quality Site Furniture is the leading manufacturer of site furnishings for the state of Utah. Our site furniture is designed to combat the harsh snow storms that Utah is known for, while staying corrosion and rust-free all year long. At Quality Site Furniture, we believe in manufacturing the highest quality site furnishings that will last for years to come.

The long-lasting durability isn't all that makes our furniture so highly-esteemed. Our specialty is customizing each order so it is personal for you. That's why we give you so many options and work together to create custom laser cut designs like logos, inscriptions, etc. Aside from that, all furniture is available in a huge variety of colors and shades. With Quality Site Furniture, it's personal! Call (801) 210-9194 or email QualitySiteFurniture@Gmail.com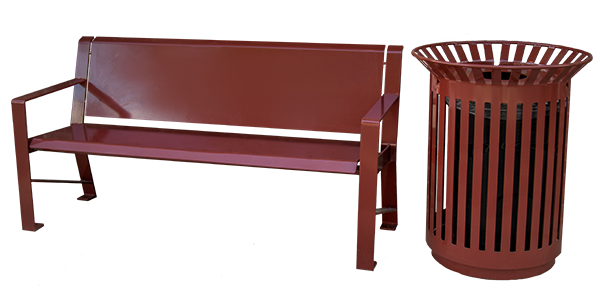 Features
-We create metal furniture with minimal welds for optimal durability.
-Our team sandblasts, primes, and powder coats all metal to protect the it from scratching, peeling, scuffing, and rusting.
-We offer a large selection of powder coating colors.
-You have options to add custom laser cut logos, inscriptions, designs, sceneries, or images.
What Quality Means to Us
Here at Quality Site Furniture, we don't take quality lightly. To us, it means furniture that won't be outgrown with time, rust, or anything else. It means outdoor furniture that maintains itself in any climate or condition (even in Utah!). We believe that quality can and should be offered at affordable prices. That's why you'll find with us the best prices matched with the highest quality furniture. With us, quality is the standard, not the extra upgrade! Quality is about what lasts the longest, the best. We put our furniture to the test, and we encourage you to do the same! You won't be disappointed.