Site Furnishing
Quality Site Furniture is the number one manufacturer of site furnishing in the state of Utah. Our site furnishings create a classic yet modern feel that is perfect for memorial gardens, campuses, parks, businesses, and everywhere in between.

You can personalize your furniture by selecting from our wide range of powder coat colors. For additional customization, we offer laser cut designs, logos, or inscriptions that are cut directly into the metal. Order your site furnishings today from Quality Site Furniture in Spanish Fork, Utah! Email QualitySiteFurniture@Gmail.com or call (801) 210-9194 to get started.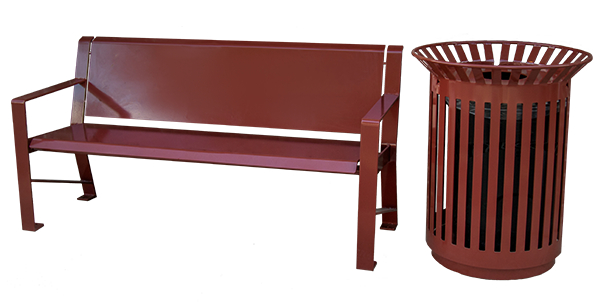 Features
-All furniture fabricated from a single sheet of metal.
-We sandblast, prime, and powder coat to provide a weatherproof seal between the metal.
-Each site furniture order comes with a large variety of powder coating color options.
-We offer custom laser cut logos for brand identity.
What We Do
Here at Quality Site Furniture, we have pride in our work. We want to be able to help you take care of everything you need and also what you want. No one has to just pick from lines of the same generic furniture, because with us, it's personal. You can have customizing options with powder coating ranging from neutral shades to bright colors. You can pick a design or inscription to be laser cut into the furniture, or even work together with us to turn your own design or photograph into a customized laser cut. Your options are endless, and it's all up to you. So make your outdoor furniture your own, and don't compromise price for quality. With us, you always get the best quality for the lowest price.