Site Furnishings
Quality Site Furniture is the number one distributor of site furnishings in the state of Utah and surrounding areas. Each piece of metal furniture is designed to have ultimate durability and weather resistance. Besides the tough and sturdy structure, their appearance is classic with glossy finishes.

At Quality Site Furniture, it's our mission to provide you with site furniture that is going to last for years and years to come. Our furniture collections include lines of picnic tables, park benches, trash receptacles, bike racks, and more. Place your order by calling (801) 210-9194 or email QualitySiteFurniture@Gmail.com, or scroll down to explore your options.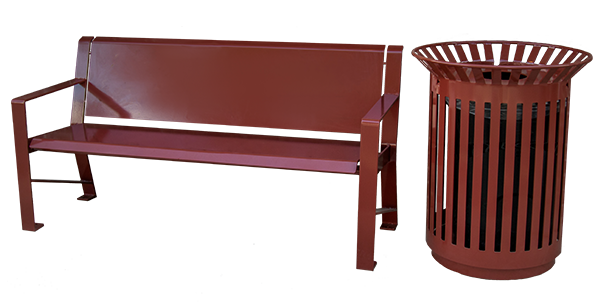 Features
-Metal is fused with minimal welds to ensure durability to all of our site furnishings.
-The three step powder coating finish offers ultimate protection against harsh weather conditions.
-Extensive powder coating color options are available for every line of furniture.
-Your choice of laser cut designs, logos, inscriptions, and more customizing options.
---
Our Vision
Our vision at Quality Site Furniture is to provide school campuses, businesses, parks, city sidewalks, and all other locations with metal furnishings of the absolute highest quality. To us, that means pieces that won't age, rust, chip, or wear out. Quality means safe for children as well as safe in extreme weather conditions.

And with us, you never have to compromise. You can have outdoor furniture that is of great quality without paying outrageous prices. You can have custom-made orders without long delays. We work together with you to customize your order, and we work promptly! With Quality Site Furniture, it's personal. It is possible to be high-quality, affordable, and quick. It really is–we're the proof!
---